This is a companion blog posting to my Episode 0.5 (the Teaser) Podcast about Ransomware, etc. which can be found on the Podcast page of this site, or on all good podcasting platforms, including Google, Apple, Spotify, Pocket Casts, etc.
Ransomware is not new, but how many of you actually know when it first appeared?
Believe it or not, the very first Ransomware appeared in 1989; yes you read that right! Want to know more, then read on, and I'll explain the history and major changes that have occurred since that very first Ransomware way back in 1989…
Back in Time
The very first Ransomware was the so-called AIDS Trojan which was supplied on a 5.25″ Floppy Disc to thousands of  attendees of the World Health Organisation's AIDS Conference and also mailed out to over 20,000 individuals across Europe.
The disc was created by PC Cyborg which was the company run by Dr. Joseph Popp and it contained a program that claimed to work out your risk/chance of catching AIDS (now called HIV). If you inserted the disc into your IBM (or compatible) PC and ran the program, it would indeed do what it claimed; however after 90 boots/reboots the malicious payload (encryption) would trigger and you would see the following: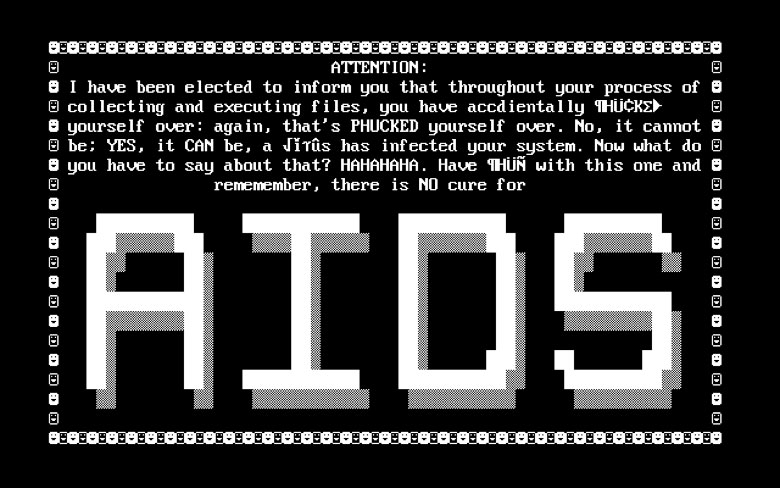 Ironically, if you actually read the EULA that came with the disc, it clearly explained that you needed to pay a licence fee to use it and that it would encrypt your system if you didn't pay, sound familiar?
Here is part of the text of the supplied EULA:
"If you install [this] on a microcomputer...
then under terms of this license you agree to pay PC Cyborg Corporation in full for the cost of leasing these programs...
In the case of your breach of this license agreement, PC Cyborg reserves the right to take legal action necessary to recover any outstanding debts payable to PC Cyborg Corporation and to use program mechanisms to ensure termination of your use...
These program mechanisms will adversely affect other program applications...
You are hereby advised of the most serious consequences of your failure to abide by the terms of this license agreement; your conscience may haunt you for the rest of your life...
and your [PC] will stop functioning normally...
You are strictly prohibited from sharing [this product] with others..."

Here is the full version:


Luckily the program used trivial encryption and soon a decryption tool was written by Jim Bates and given away for free. He also wrote up his analysis of the Trojan (the term Ransomware didn't exist in 1989).
An arrest warrant was issued by New Scotland Yard and Popp was eventually arrested at Schiphol airport in Amsterdam during a routine baggage inspection.
From that date his behaviour became very erratic; he was held in Brixton prison until he was due to go to appear at court. There have been reports that he was known to wear a cardboard box whilst in prison, and that when he finally appeared in court, that he had curlers in his beard and a condom (prophylactic) on his nose, allegedly "to ward off radiation". Whatever the real state of his appearance in court, he was declared "mentally unfit to stand trial" and returned to the United States without charge.
Other researchers (Yung and Young) analysed the Trojan in more detail and wrote a paper on it (in 1996) pointing out its many flaws, but the major one was that is used Symmetric (single key) encryption rather than Asymmetric (Public Key Cryptography, that uses two keys, a Public and a Private key). Most modern Ransomware uses the latter, and this means that unless you have access to the Private key, you can't decrypt the encrypted data (unless the encryption methodology used is not properly implemented).
The Rebirth…
Not surprising, the Bad Guys n Girls were taking notes, and in the early Noughties we saw the re-birth of (or birth of modern) Ransomware. Of course it used Public Key Cryptography (PGP/GPG). Some of the early new versions were named PGP or GPGCoder. However, the problem was how to get the money from a victim without being caught or unmasked (always a tricky issue for any extortionist or blackmailer in the days before cryptocurrencies existed).
We saw a small (compared to the explosion that was to follow) number of these new Ransomware, but all was about to change in 2009 with the first launch of a little cryptocurrency called Bitcoin (invented in 2008).
It took a few years for the cyber-criminals (the Bad Guys n Girls) to catch on to the value of Bitcoin as a method of payment for Ransomware and other crimes, but by around the start of 2013, they had started to embrace Bitcoin and Ransomware exploded over the next 4-5 years. The first modern Ransomware that took full advantage of not only Public Key Cryptography, but also Bitcoin was known as Cryptolocker. Many saw the success of this malware, and promptly developed their own Ransomware strains.
The Business
Once Cryptolocker had arrived, Ransomware quickly became a thriving way to make money for the Bad Guys n Girls. Estimates appeared that claimed that in 2015 Ransomware netted (according to the FBI) over $24 Million USD, in the first three months of 2016 this had grown to over $209 Million USD, and Kaspersky claimed that Ransomware attacks tripled in 2016. Things just got worse in 2017 as we saw the first Worm-enabled Ransomware (which can move from system to system without human help). 2017 is remembered for two major Ransomware attacks, Wannacry in May, and then NotPetya in June (both Worms). The problem with NotPetya was although it acted like Ransomware, it was in reality a wiper, so even if you paid up, you wouldn't get your data back!
According to Cybersecurity Ventures, they predict that Ransoware will cost $6 Trillion USD annually by 2021.
But read on dear reader, things are about to change, in 2018!
The Future?
As mentioned previously things were about to change in 2018 (actually from the last quarter of 2017)…
During 2018 we saw the number of Ransomware attacks shrink, but the average Ransom being charged increased (significantly), why?
The Bad Guys and Girls moved to a more targeted approach, often manually hacking an organisations infrastructure, mapping out there network, and then encrypting the organisations "crown jewels". Often part of this mapping would identify where the backups were and these would either be erased (securely) or encrypted too. They started to look for high value targets, rather than use the previous scatter-gun (mass-mailing) approach they had used during 2015-2017.
Writing Ransomware is not trivial (if done properly), so the Bad Guys n Girls were also looking for other ways to monetise vulernable systems (ones they can hack, either manually or via an automated script). They decided to steal the processing power of compromised systems to "mine" cryptocurrency. Less work, less risk and more profit; it was a match made in heaven!
I blogged about the "Curse of Cryptojacking" recently.
However, I don't think we have seen the back of Ransomware, the Bad Guys n Girls may have moved on to Cryptojacking and Sextortion scams, however, they will continue to hold data and systems to ransom where the payout is worth the effort. Increasingly this means Public Services (Government), Healthcare, Education, and Law Enforcement (including Law firms), as well as the more traditional targets (Retail, Travel, Finance, etc.)
Update March 20th: Ironically less than 24 hours after I posted this blog, Norsk Hydro was hit by manually deployed Ransomware (in this case is was LockerGoga) which uses the same approach as other manually deployed Ransomware (such as SamSam); the victims infrastructure in penetrated via a vulnerability or insecure open port, and the Bad Guys n Girls map out the network and then deploy their Ransomware personally.
Protection?
Harden and patch all systems, applications and Cloud infrastructure.
Use unique passwords for all access; even better use two or multi-factor authentication (not SMS based).
Install and run anti-malware, end-point/server protection, and on servers enable and configure the firewall and if it is a web server protect it via a Web Application Firewall too.
Remove all default accounts and sample content on web and database servers, etc.
Close off ports for remote administration, or put them behind a VPN. That includes RDP (Terimal Services), Telnet, SSH and others
Stay aware of new threats and countermeasures, both specific and generic.
Train and test your staff; they are often the first and last line of defence.
Take BACKUPS, and store them physically off-site (not in the Cloud), and test that they work (do a RESTORE). That way you have the option to recover your systems and data without having to pay the Bad Guys n Girls.
If you are using O365 or GSuite enable 2FA/MFA and do NOT allow the services to be accessed via IMAP or POP3, as this will bypass Multi-Factor Authentication (you have been warned!)
If you have cyber or crime insurance, check that Ransomware is covered by the policy (most cyber insurance policies currently do cover this, but Property and Casualty policies usually don't)…
Until next time, stay safe out there!